About Inn on the Sound
Picture yourself at a quintessential Cape Cod Inn surrounded by views of Martha's Vineyard and the Vineyard sound. At Inn on the Sound, a Falmouth Bed and Breakfast, we promise you comfortable well-appointed guest rooms that will make you forget all stresses back home. Imagine being just stone's throw away from many of the areas wonderful attractions like whale watching and Falmouth Village. For your next Cape Cod Beach vacation call the Inn on the Sound at Falmouth.
Here's what our guests and the media have to say …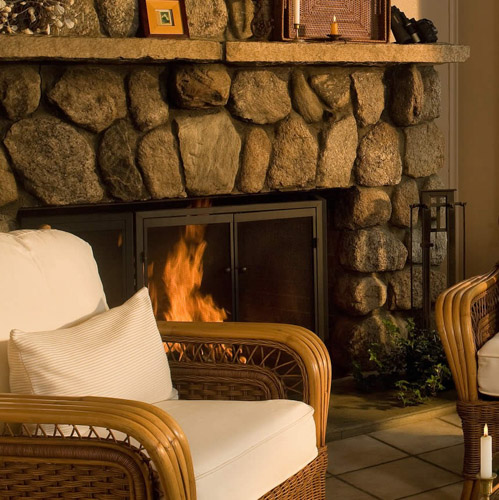 "The Inn on the Sound was truly a safe haven. Tucked along a winding ocean drive, the rooms are just as jaw dropping as their view. I couldn't of imagined a better place to stay and reconnect with friends. Breakfasts in the morning were superb and cozy fires before turning in for the night brought guests together to share adventures of the day. I highly recommend this Inn for any Falmouth Visitor."
– Marisa, Trip Advisor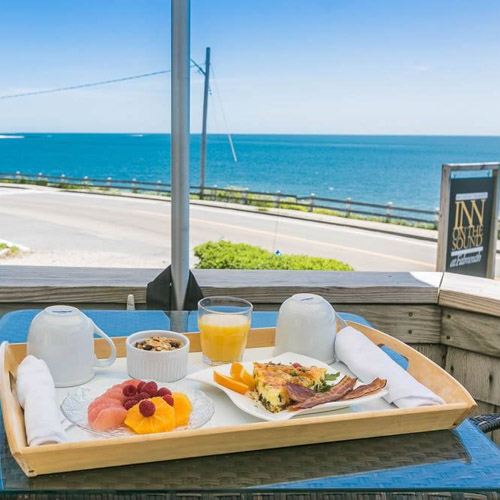 "Worth every penny! Just got back from a 3 night stay and felt the need to leave a great review. Very convenient location and the owner keeps the Inn super clean. Everywhere you look everything is immaculate and well taken care of. Breakfasts were unique and delicious. We stayed in a garden view room which was quite nice but if you can afford it the ocean view rooms with a terrace are really really nice. You don't need to bring beach towels or chairs since they supply them."
– Bob, Trip Advisor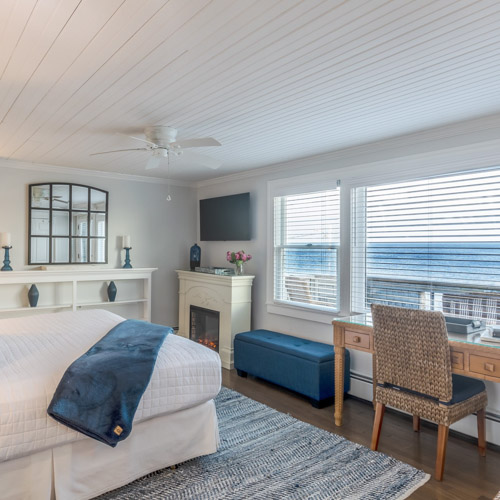 "We were so happy to find this Inn for our daughter's micro wedding. All 22 of us could stay together in one place and walk across the street for the ceremony on the beach. And what a special stay it was with Debbie's extra attention to every detail. And her breakfasts both morning were absolutely wonderful! Highly recommend the Inn for any type of stay, the water views are beautiful and Falmouth has so much to explore."
– Michelle Nelson, Google


"The ambiance here is as breezy as the setting high on a bluff beside Falmouth's premier sunning beach, with a sweeping view of Vineyard Sound from the large front deck. There's none of the usual frilly/ cutesy stuff in these well-appointed guest rooms, most of which have ocean views, several with their own private decks." – Frommers.com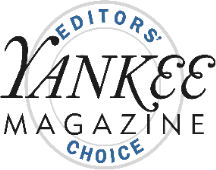 "Inn on the Sound is the best place to stay in Falmouth. The waterfront Inn boasts 12 stylishly casual and summery rooms. Linens are plush, toiletries are fine and towels are fluffy and white".

5 Elegant Bed and Breakfasts in Cape Cod For Couples. #1 INN ON THE SOUND. "I thoroughly enjoyed a waterfront retreat to this beautiful Falmouth bed and breakfast. The Inn on the Sound has a boutique vibe, friendly atmosphere, and is a great place to stay to enjoy all that Falmouth and Cape Cod offers."

"At this understated and serene but stylish inn, perched on a bluff overlooking Vineyard Sound, the living room and most guest rooms face the water. Common areas include an art-laden living room with a boulder fireplace, oversize windows, and modern white couches; a bistro-like breakfast room; and a porch with more stunning water views. A delicious gourmet breakfast … guests can enjoy their meal in the dining area, their room or even on the beach."

"New England's most reliable snowplow clears beaches day and night, keeping the band of land at water's edge walkable—and enjoyable if you're dressed right. Wintertime waves are mesmerizing; the ocean's restorative energy a constant … best winter ocean weekends in New England … while gazing out to sea while sitting beside the inn's roaring fire may seem out of place, it feels elemental and satisfying."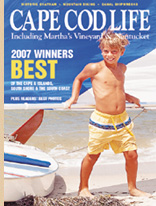 Inn on the Sound was named
"EDITORS CHOICE"
By Cape Cod Life Magazine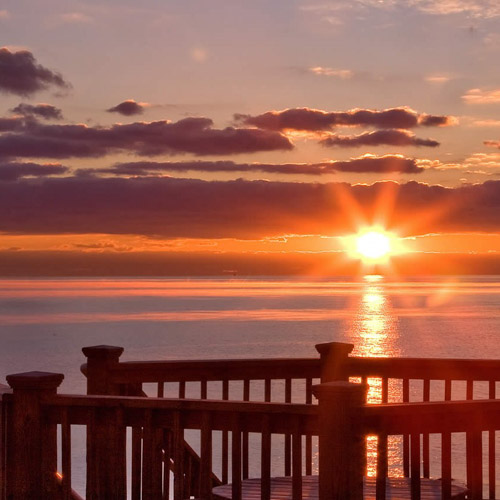 "My husband and I had a fantastic stay here! Cozy, comfortable, and very clean. Right on the ocean, so bring walking shoes.
Our little deck that overlooked the ocean was so therapeutic. We watched the sunset and sipped wine wrapped in blankets. Breakfast was also great. Thank you for such a lovely stay!"
– Marissa Barner, Google
"My husband and I were blown away by this place! We were greeted by Debbie, who couldn't have been nicer or more accommodating, and our room was beautiful. We stayed in the Green Harbor room and could look right out at the ocean. The king size bed was so comfy and the linens were top-notch! Breakfast was amazing and we didn't want to leave. Cannot say enough about this place, they have thought of everything!"
– Stacy West, Trip Advisor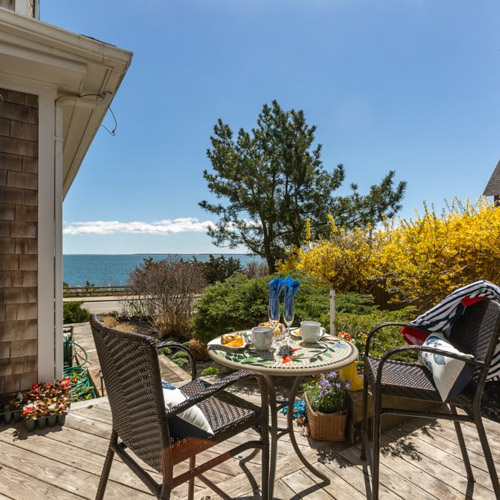 "I've never stayed at a B&B, I didn't know what to expect. If all B&B are like this, I'll never do timeshare again. Simple check in, plenty of parking in front and back. Amazing views of the water from the patio in our room and the front patio. Well stocked fridge of complimentary drinks. There was fresh baked white chocolate macadamia nut cookies that were made by the staff, delicious. Breakfast was amazing, there was French toast that day. Spotless clean at the Inn and in the rooms. Very comfortable king bed and pillows. We were in the Nobska Point room. My only complaint is that I can't give more than 5 Stars. Book your room already!"
– Andrew, Google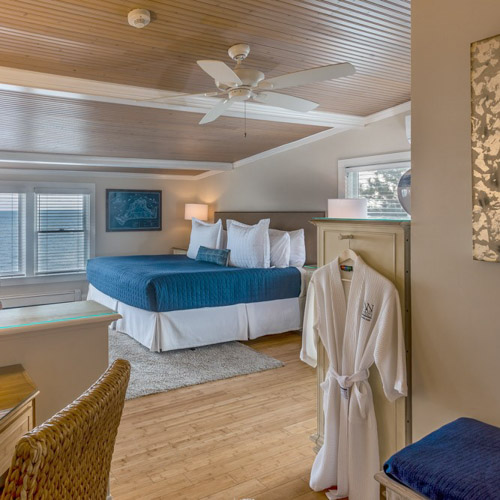 "I booked two rooms at this beautiful Inn overlooking the sea and cannot find any fault with the property or the host. It is probably the most well stocked of any hotel/inn we have ever stayed in. Clean, comfortable bedrooms and bathrooms. Fabulous linen and towels plus any item you needed in the room is provided (even lip balm!). When we wanted to go to the beach we were provided with towels in a basket and could also have taken chairs if desired.
Breakfast was always a pleasure, starting with fresh fruit and fabulous homemade granola followed by a homemade dish of the day such as salmon soufflé followed by cakes, croissants and breads! When we came back in the evening there was a fully stocked fridge with soft drinks of every kind plus cakes and treats.
I'm running out of time but also want to mention the help we got with booking trips such as going to Martha's Vineyard and whale watching. A fully stocked library available too. I would definitely recommend this venue."
– Yvonne, Trip Advisor