When staying at the Inn on the Sound in Falmouth, there are endless possibilities for spending time. The Cape Cod Chamber is a helpful website for many of our guests. Below are suggestions from some of our favorite sources. If you need specific recommendations for dining, shopping or sight-seeing, please ask us for help planning your stay.
Slideshow photo credit.
Cape Cod Cultural Center
Whale: Kim Hojnacki
Shopping: Kristen Mitchell-Hughes
Black Rock Golf Course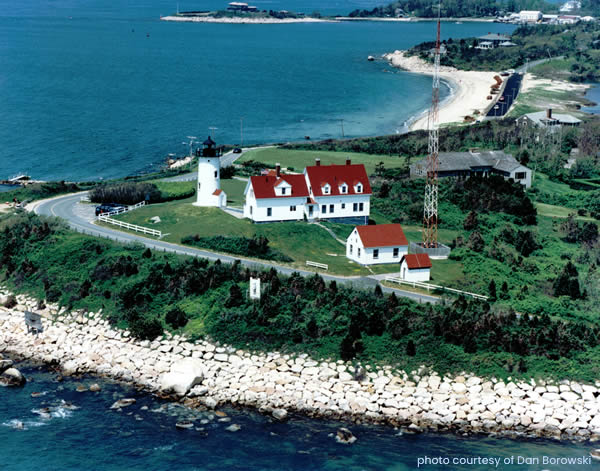 "The best thing about Cape Cod is that it has something to appeal to every type of traveler. For beachgoers, the Cape Cod National Seashore is paradise, with its spectacular sand dunes and miles of pristine beaches like Race Point, Nauset, and Coast Guard Beach. And don't miss some of Cape Cod's other beautiful stretches, such as Chatham's Lighthouse Beach.
Adventurers will want to rent a bike and cycle along the Cape Cod Rail Trail, which passes through some of the area's most stunning scenery. For animal lovers, getting out on the water with a cruise to see dolphins, seals, and humpback whales is a must. There's plenty for culture buffs, too: take in a play at the Monomoy Theater or visit the Cape's many museums and galleries, including the Sandwich Glass Museum, which showcases the town's glassmaking tradition. And then there's the Cape Cod Museum of Natural History, in Brewster, which celebrates the innate beauty of the area."
– Travel & Leisure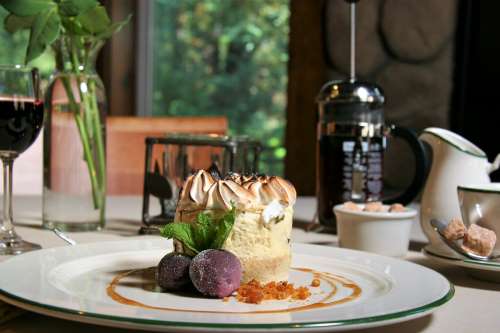 Some of our favorite Falmouth Restaurants:
THE GLASS ONION
https://www.theglassoniondining.com
37 North Main Street ,Falmouth MA 02540
Phone: 508.540.3730
OSTERIA LA CIVETTA
www.osterialacivetta.com
133 Main Street, Falmouth, Ma 02540
Phone: 508.540.1616
CSALT WINE BAR AND GRILL
https://www.csaltfalmouth.com
75 Davis Straits ,Falmouth MA 02540
Phone: 774.763.2954
LA CUCINA SUL MARE
http://www.lacucinasulmare.com
237 Main Street Falmouth, MA 02540
Phone: 508. 548.5600
THE QUARTERDECK (incredible 1/1/4 lb lobster sandwich!)
https://www.qdfalmouth.com
164 Main Street, Falmouth MA 02540
Phone: 508.548.9900
ANEJO (MEXICAN BISTRO)
http://www.anejomexicanbistro.com
188 Main Street, Falmouth MA 02540
Phone: 508.388.7631
SIMPLY DIVINE (Great Pizza, Paninis, etc.)
http://divinepizza.com
271 Main Street, Falmouth, MA 02540
Phone: 508.548.1222
LIAM MAGUIRES IRISH PUB
http://www.liammaguire.com
273 Main Street, Falmouth MA 02540
Phone: 508.548.0285
MAISON VILLATTE (Authentic French Bakery) (LUNCH)
http://maisonvillatte.four-food.com
267 Main Street, Falmouth MA 02540
Phone: 774.255.1855
PICKLE JAR KITCHEN (LUNCH)
http://www.picklejarkitchen.com
170 Main Street, Falmouth, MA 02540
Phone: 508.540.6760
THE FLYING BRIDGE (casual seafood, waterfront)
https://flyingbridgerestaurant.com/
220 Scranton Avenue
Falmouth, MA 02540
Phone: 508-548-2700
FAST FOOD STYLE FRIED SEAFOOD:
ANCHOR ALE HOUSE
www.anchorale.com
100 Davis Straits, Falmouth, MA 02540
Phone: (508) 299-8200
THE CLAM SHACK
227 Clinton Ave
Falmouth, MA 02540
(508) 540-7758
SEAFOOD SAMS
https://www.seafoodsams.com/falmouth
356 Palmer Ave, Falmouth, MA 02540
(508)540-7877
Woods Hole:
QUICKS HOLE TAVERN
https://quicksholewickedfresh.com/tavern
29 Railroad Avenue, Woods Hole MA 02543
Phone: 508.495.0048
LANDFALL RESTAURANT
https://www.landfallwoodshole.com
9 Luscombe Avenue, Woods Hole MA 02543
Phone: 508.548.1758
PIE IN THE SKY LUNCH (Bakery and Café) (LUNCH)
https://piecoffee.com
10 Water Street, Woods Hole MA 02543
Phone: 508.540.5475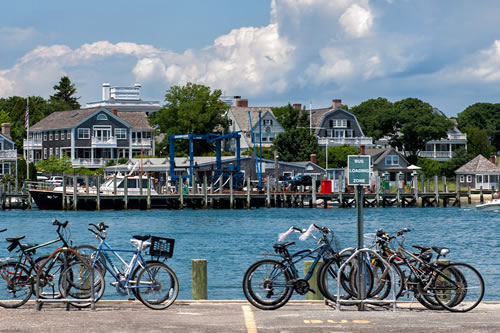 The Vineyard is an enjoyable 35-minute ferry ride from Falmouth. It is a perfect day trip. Transportation on the Vineyard is easy via tours, taxi, bus, rental bicycles, mopeds, jeeps or autos. All are available to you as you exit from the ferries. During the summer season, we recommend the 3+ hour bus tour departing from Oak Bluffs and Vineyard Haven. The tour provides an entertaining and informative view of the entire Vineyard and leaves ample time to return to spots of particular interest.
Year-round service from Woods Hole to Vineyard Haven is offered via the Steamship Authority ferry. This is the only year-round operator to the Island and the only vehicle carrier. Advance reservations are a must for vehicles but not necessary for passengers and bicycles. Parking, for a fee, is available at off-site satellite lots in Falmouth and the ticket price includes the short bus trip to the Steamship Authority dock. Allow yourself at least 50 minutes to depart from the Inn, park your car at one of the satellite lots, bus to Woods Hole and to purchase your ferry tickets at dockside…
For auto reservations or info, call 508-477-8600, or visit https://www.steamshipauthority.com/.
The summer season (Memorial Day weekend through Columbus Day weekend) brings our local ferry, the Island Queen, to the Falmouth Harbor. She is located a short walk from our Inn. Service is from the harbor to Oak Bluffs carrying only passengers and bicycles. (No automobiles). There is parking for a fee, however in most cases you will be parking a distance equal to that of our Inn. It is easier to leave your car in our parking lot and take the stroll to the ferry. We suggest leaving the Inn approximately 25 minutes prior to departure time. The Island Queen can be reached at 508-548-4800, or visit them at www.islandqueen.com
In addition, the summer season offers the Pied Piper Ferry Service from Falmouth Marina on Scranton Avenue in Falmouth Harbor to Memorial Wharf, Edgartown on the Vineyard. This is a passenger and bicycle service (no vehicles), with free dockside parking.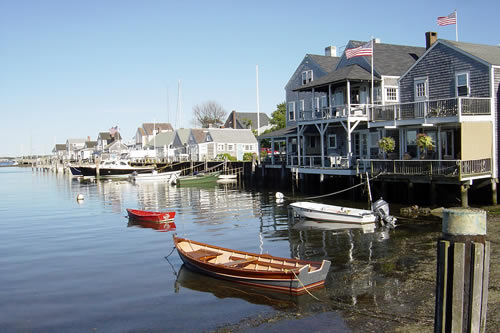 Nantucket is a lovely island and a worthwhile visit if time permits. This trip will require your entire day.
Nantucket is accessible from Hyannis via ferry or plane. For air travel, ask about Cape Air/Nantucket Airlines schedules or call 800-352-0714. It takes about 45 minutes by auto from the Inn to the Hyannis docks and takes longer in heavy 'season' traffic. Allow time for parking and the purchase of tickets.
The trip via ferry is offered by the Steamship Authority from South Street Docks, Hyannis to Steamboat Wharf, Nantucket. This is a yearround service carrying passengers, bicycles, and vehicles (rates change seasonally, check schedules for pricing). Vehicle reservations are recommended. Parking is available dockside and at a nearby satellite lot. The crossing takes approximately 2 hours and 15 minutes.
The Steamship Authority also offers the Flying Cloud, a fast speed, one-hour service from Hyannis to Nantucket. Reservations are recommended.
Hy-Line Cruises (another ferry service) also offers a direct service from Ocean Street Docks, Hyannis to Straight Wharf, Nantucket. This service is seasonal from early May through the end of October. The ferry accommodates only passengers and bicycles. No vehicles.
We have schedules for all the ferry companies…please inquire or take a brochure from the racks in our middle vestibule.
*Nantucket photo courtesy of Bobak Ha'Eri.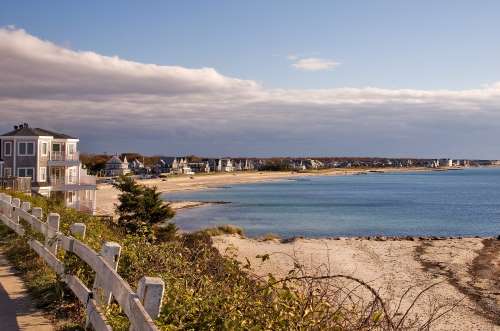 Our 'Falmouth Heights Beach' is across the street just 25 feet below us. To the left of the Inn, across the street, is a deck with a staircase that leads to the private beach. You may prefer to walk a few steps further to the east (left), straight out onto our public sandy beach. During the summer months a lifeguard is on duty.
MORE ABOUT BEACHES
Whether you are searching for broad, majestic stretches of white sand or if you prefer quiet, intimate spots off the beaten path, Cape Cod and the Islands are lined with many, most desirable beaches. Falmouth has over 68 miles of coastline with an average summer water temperature of 70 degrees (the warmest on the Cape).
For great sunsets: Chapoquoit Beach (West Falmouth), The Knob at Quissett Harbor, and Old Silver Beach (North Falmouth).
And more popular beaches …
Bristol Beach
508.548.8623
Menauhant Road Falmouth, MA
Medium-sized beach. Lots of room. Nice sand. Shelly. Small waves. Not crowded. Nice view. Small rock jetties. Large parking. Attendant on duty. No boardwalk. Right off road. Families. Lot closes at 9 p.m.
Chapoquoit Beach
508.548.8623
Chapoquoit Road Falmouth, MA
Long, narrow beach. Fair amount of room. Great sunsets. Medium waves. Families. Nice Buzzards Bay view. Large parking lot. Attendant on duty. Stairs down to beach.
Falmouth Heights Beach
508.548.8623
Grand Avenue and Central Park Avenue Falmouth, MA
Big, long beach. Plenty of room. Nice sand. A few stairs to beach. Nice view. Small rock jetties. Large parking lot. Attendant on duty. Parking lot closes at 9 p.m.
Grews Pond
508.584.8623
Goodwill Park, off Gifford Street Falmouth, MA
A good amount of room. Picnic area. Restrooms. Roped-off swimming area. Volleyball. Barbacue grills. Medium parking area. No attendant. Calm water. Pretty view. Some shade. Families and teens.
Megansett Beach
508.548.8623
County Road Falmouth, MA
Small, but plenty of room. Family friendly. Rock jetty. Harbor. View littered with boats. Shelly sand. Private beach on one side. Smaller parking. No attendant. No walk. Not crowded. Calm water.
Menauhant Beach
508.548.8623
Menauhant Road Falmouth, MA
Warm water. Long, narrow. Quiet neighborhood. Lots of room. Not crowded. Medium-sized waves. Nice sand. Large parking area. No walk. Attendant on duty. Rock sand shells. Nice view.
Old Silver Beach
508.548.8623
Quaker Road Falmouth, MA 02556
Two sections: One for residents who have beach stickers and another for the general public. Each section has its own parking area. Large beach. Calm, warm water. Strong currents at high tide.
Surf Drive Beach
508.548.8623
Surf Drive Road Falmouth, MA
Long beach. Lots of room. Not crowded. Windy. Rock jetties. Birds. Beach sticker office on premises. Small waves. Nice sand. A little dirty. Large parking lot. No walk. Attendant on duty. Bike rack.
Wood Neck Beach
508.548.8623
Woodneck Road, off Sippewissett Road Falmouth, MA 02540
Long, narrow beach. Not too much room. Pebbly sand. Lots of shells and rocks. Not crowded. Families. Large parking lot. Attendant on duty. No boardwalk. Bike rack.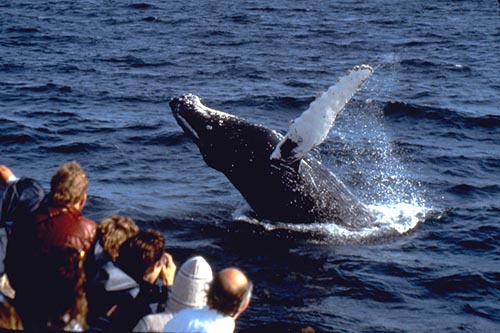 The Cape and Islands have long taken advantage of the large numbers of whales in our waters. Fortunately, today the boats that go out in search of whales are armed with no more than cameras, research equipment and wide-eyed passengers.
You may be fortunate enough to see humpbacks, finbacks, and minke whales, as well as the endangered North Atlantic Right Whale. Located just off the coast of Provincetown, stretching up to Cape Ann, is 842 square miles of the Stellwagen Bank National Marine Sanctuary in open ocean. There are three whale watching departure points.
Average cruises run about 4 hours with informative commentary by a naturalist. Most cruises guarantee sightings and venture out on the seas, rain or shine.
• The Dolphin Fleet of Provincetown is located closest to the whales' feeding ground at Stellwagon Bank. You will spend less time traveling to the feeding grounds and more time with the whales by choosing this option. The drive to P-town is approximately 2 hours by highway (Rte. 6) and 2-3/4 hours by the more scenic route (Rte 6A). We are pleased to provide a regional map to further highlight this lovely day trip. We can also provide a discount coupon.
• Hyannis Whale Watcher Cruises depart from Barnstable Harbor. Please leave the inn approximately 1 ½ hours prior to the listed cruise time. You will need 30 to 45 minutes travel time to the harbor. It is the request of the company that you arrive 45 minutes prior to departure.
Reservations are a must for all cruises and services. Ask us for schedules and have the inn book a reservation for you.
*Photo courtesy of Stellwagen Bank.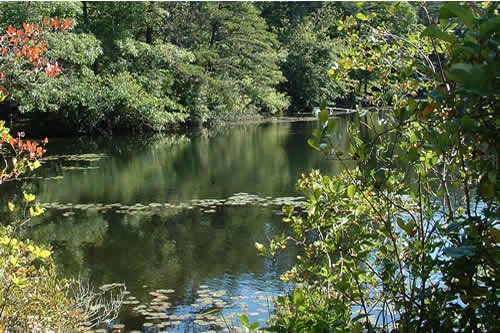 Thanks to conservation efforts across the Cape and Islands, there are still many open green spaces for outdoor enthusiasts. Locally you will find great hiking in Beebe Woods, a 387-acre conservation woodland with marked trails. There are 34 acres at Bourne Farm on West Falmouth Highway 28A; The Knob at Quissett Harbor offering hiking trails through 13 acres of protected bird sanctuary; Spohr Gardens offers 7 acres of specimen trees and lovely spring flowers. Waquoit Bay National Estuarine Research Reserve encompasses 2500 acres of open waters, barrier beaches & marshlands; and 45 acres of marked trails in Ashumet Holly & Wildlife Sanctuary of East Falmouth. Ashumet also offers spring seal cruises and summer and fall cruises to Cuttyhunk Island.
*Photo courtesy of Cape Cod Chamber of Commerce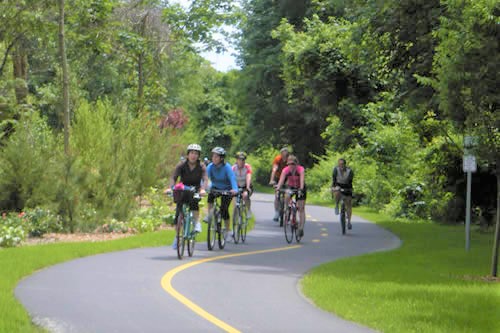 Bicycling ~ The Cape and Islands offer a variety of bicycle paths from gently sloping novice trails to more strenuous treks for serious bikers. Our claim to fame is the 'Shining Sea Bike Path' giving you beautiful vistas along our old rail-bed route which passes sandy beaches, ocean harbors, salt water marshes, kettle hold ponds, cranberry bogs, and quiet woodlands. The trail is flat, paved and 23 miles round trip.
Bicycle Shops ~
• Holiday Cycles – A short walk from the inn.
• Corner Cycle
• Art's Bike Shop
*Photo courtesy of Cora Diaz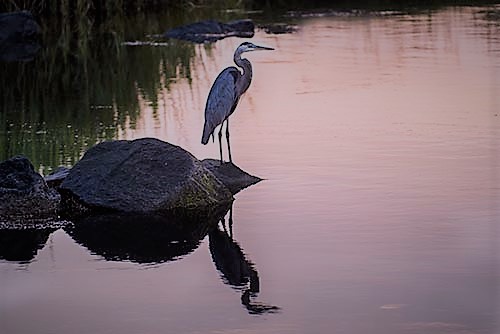 Bird Watching ~ Most serious "birders" agree that Monomoy Island in Chatham, is a spectacular spot to spy migrating birds. But there are many other coastal areas and nature preserves across the Cape and Islands that offer countless varieties of birds to watch. Check with local chambers of commerce or bird watching specialty stores for additional suggestions or information on organized bird watching excursions. For local 'watching' visit Ashumet Holly & Wildlife Sanctuary, off Route 151, Falmouth Sailing Instructions. During the warmer months, the Falmouth Recreation Department and the Falmouth and the Massachusetts Maritime Academy offer sailing lessons. Private lessons are available with Kristin Brennen on a 12' Beatlecat sailboat out of Falmouth Harbor off Deacons Avenue (near Falmouth Yacht Club).
*Photo courtesy of Ben Nugent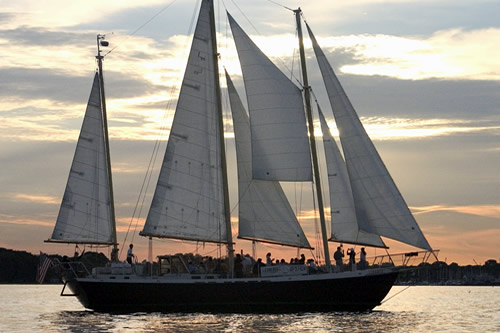 Horseback Riding & Instruction ~ Many local stables offer riding instructions and/or marked trails. Check with each regarding your specific needs. Our local facilities include Fieldcrest Farms and Haland Stable.
Aquarium ~ The aquarium in Woods Hole is the oldest in the US. It was established in1885 for scientific research and public education.
National Marine Life Center ~ A non-profit organization, the NMLC is dedicated to the rehabilitation and release of stranded/injured marine animals and to advancing scientific knowledge and education in marine wildlife health and conservation.
Fresh Water Fishing ~ State permits are required for fresh water fishing and shell fishing. These may be obtained through local tackle shops. For fresh and saltwater suggestions, ask us for the 'Sportsman's Guide to Cape Cod' published by the Cape Cod Chamber of Commerce.
Surf Casting ~ Permits are now required for saltwater fishing. Popular locations are along the jetties form here to South Cape Beach in Mashpee. Charter Fishing. Charters are available throughout the Cape. Here are our local Falmouth Harbor charters.
• Ananta Sport Fishing for striped bass & bluefish
• Eastwind for bass, blues, shark, tuna & Bonita
• Lee-Marie Sportfishing for striped bass, blues & Bonita
• Obsession Sportfishing for striped bass & bluefish
• Patriot Party Boats, Inc. for striped bass, flounder& fluke
• Sea Fox Sportfishing for blues and bass
• Blue Fin 2 for bass, blues, tuna and shark
• Captain Dave Peros for blues, bass, bottom fish
Museums ~ The Cape offers numerous historical, fine art, and special interest museums. The Heritage Plantation is a museum featuring local history and magnificent gardens. Located in neighboring Sandwich, it is certainly worth a visit.
Bowling ~ Ryan Family Amusements, Town Hall Square
Sailing Charters ~ Patriot Party Boats, Inc. provides a 1750's replica fishing schooner, the 'Liberte', for sailing out of Falmouth Harbor. This schooner offers day sails and sunset cruises or may be chartered.
Art Galleries ~ Galleries and art happenings can be found in every community on the Cape, but Wellfleet is probably best known for the many reputable and sophisticated galleries.
Antiquing ~ Our immediate area contains some of the best antiquing on the Cape. Route 6A traveling east from Sandwich to Orleans is another great antiquing trail.
*Photo courtesy of Cape Cod Chamber of Commerce